16" Vicla Handlebar Chrome - Factory47
How do you define the word Vicla? We like to think of it as a slang term for "gangster-style motorcycle". When you're riding on your Harley Davidson, nothing beats the feeling of cruising down the boulevard on your slammed Vicla with your hands hanging off your chrome OG apes, while your fishtails rap to the city. The Vicla handlebar has all the OG touches of traditional style apes, with a few new -school up grades.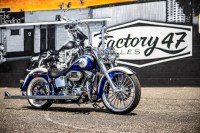 Description
Compatibility:
All Road King/Softail Models
Finish:
Chrome
Rise:
16"
Overall Width:
37"
Point to Point Width:
18"
StepDown Width:
5-1/4"
Outside to Outside Dimension:
14-1/2"
Pullback:
8-1/2"
Drop Down:
1-3/4"
Diameter:
1-1/2"
Clamping Area:
1"
Features:
• "We offer easy 5 minute approval NO CREDIT NEEDED FINACNING ON ALL PRODUCTS WITH 3, 6, or 12 month NO INTEREST options!!"

(Fill out our application here)

•

*Low Price Guarantee,

We agree to match the price of a competitor if the customer finds the item cheaper elsewhere. Subject to restrictions including lowest advertised price, US only, online only, in-stock only, exact model number etc.
• Fast Shipping anywhere in the United States to your home or business


Compatibility: All Road King/Softail Models
Finish: Chrome
Rise: 16"
Overall Width: 37"
Point to Point Width: 18"
StepDown Width: 5-1/4"
Outside to Outside Dimension: 14-1/2"
Pullback: 8-1/2"
Drop Down: 1-3/4"
Diameter: 1-1/2"
Clamping Area: 1"