"THE FIX" REAR FENDER KITS FOR XL SPORTSTERS 2010 & LATER
So you love your new Sportster but hate the plastic side mount license and dirt bike rear fender?


So do we! We have "THE FIX" for you – our Rear Fender for Sportsters.


Made right here at our composite shop, the NEW "THE FIX" Rear Fender for Sportster models is a direct bolt-on replacement. Each kit comes with our sleek fender and frenched in LED license plate frame in either gloss black or chrome.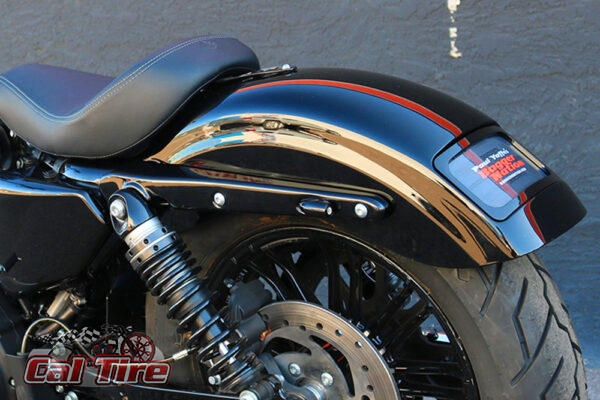 Base price for variant
$399.95
Sales price without tax
$399.95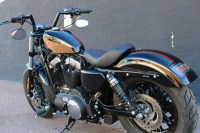 Description
For 2010 & Later XL Sportsters 883N/1200N/1200V/1200X

Check out the NEW Bagger Nation FIX rear fender kits for Sportsters! Yup… Sportsters! Made right here at our composite shop in Phoenix Arizona, these new fender kits are a direct bolt-on replacement and really clean up the rear end of your bike. They are pre-drilled to utilize stock mounting hardware for a clean & simple install. Customize the look of "The FIX" Sportster rear fender by selecting the license plate options in either brilliant chrome or gloss black OR no frame at all!.

• Handmade in our Phoenix Arizona factory by Arizona craftsmen
• Factory Frenched-in Stealth II License Plate
• Smooth (no plate) option available
• 3-D Formed & drilled with primer finish – Ready for Paint
• See "You may also like" below for lighting options
Features:
• "We offer easy 5 minute approval NO CREDIT NEEDED FINACNING ON ALL PRODUCTS WITH 3, 6, or 12 month NO INTEREST options!!"

(Fill out our application here)

•

*Low Price Guarantee,

We agree to match the price of a competitor if the customer finds the item cheaper elsewhere. Subject to restrictions including lowest advertised price, US only, online only, in-stock only, exact model number etc.
• Fast Shipping anywhere in the United States to your home or business


For 2010 & Later XL Sportsters 883N/1200N/1200V/1200X

Check out the NEW Bagger Nation FIX rear fender kits for Sportsters! Yup… Sportsters! Made right here at our composite shop in Phoenix Arizona, these new fender kits are a direct bolt-on replacement and really clean up the rear end of your bike. They are pre-drilled to utilize stock mounting hardware for a clean & simple install. Customize the look of "The FIX" Sportster rear fender by selecting the license plate options in either brilliant chrome or gloss black OR no frame at all!.

• Handmade in our Phoenix Arizona factory by Arizona craftsmen
• Factory Frenched-in Stealth II License Plate
• Smooth (no plate) option available
• 3-D Formed & drilled with primer finish – Ready for Paint
• See "You may also like" below for lighting options